Initital Estimates, On site Surveys, Specialist Sanding Equipment, Gap Filling, Repairs, Water Based Lacquers and Oil Finishes
Top Reasons For Booking Our Parquet Refinishing Service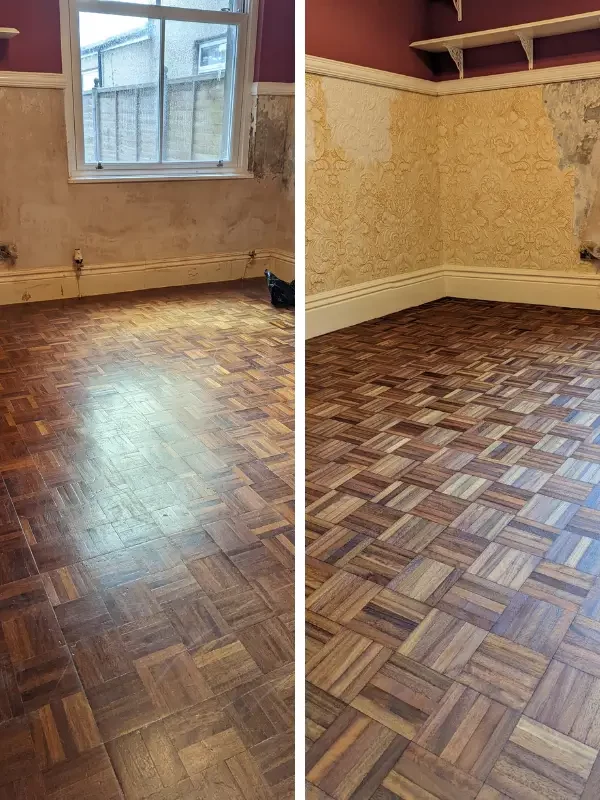 Revitalising your parquet floors has never been easier with our exceptional refinishing service. Steven uses state-of-the-art specialist sanding equipment, ensuring a flawless finish for your cherished floors. He goes the extra mile by skilfully applying hardwearing lacquers that enhance the beauty of your flooring and provide long-lasting protection.
Say goodbye to unsightly gaps or damaged parquet blocks. Steven can replace any missing or worn-out blocks, seamlessly blending them with the existing floor for a seamless look. Loose blocks are diligently re-affixed, ensuring a sturdy foundation that will stand the test of time.
To ensure a flawless appearance, Steven meticulously fills gaps in your parquet floor, leaving you with a stunning and cohesive result that will make your space shine. And to top it all off, he will provide you with detailed aftercare information, ensuring that you can maintain and enjoy your newly restored floors for years to come.
With unrivalled expertise and attention to detail, Steven brings new life to your floors, transforming them into a feature of your home. Discover the joy of stepping onto a beautifully refinished floor by entrusting Steven with your flooring needs.
Is it Worth Refinishing Your Parquet?
What a great question.  My answer would be a solid yes.  It is certainly worth restoring your parquet flooring.  Parquet flooring originally appeared in France during the 17th century.  You can get popular designs such as 
Herringbone

Chevron

Mosaic

Parquet de Versailles

Bordeaux

Basket Weave/ Double Basket Weave

Square Basket Weave

Chantilly
Parquet flooring adds character to your home that really cannot be substituted with modern flooring.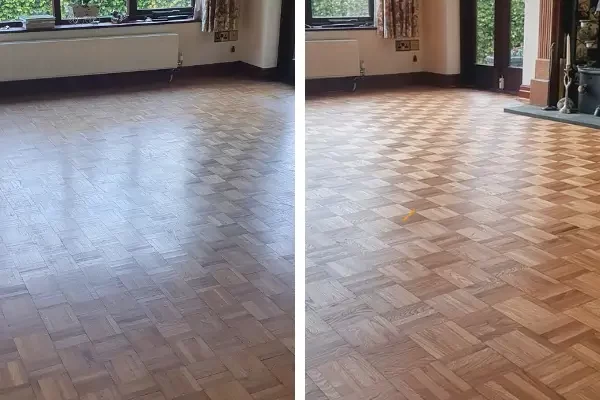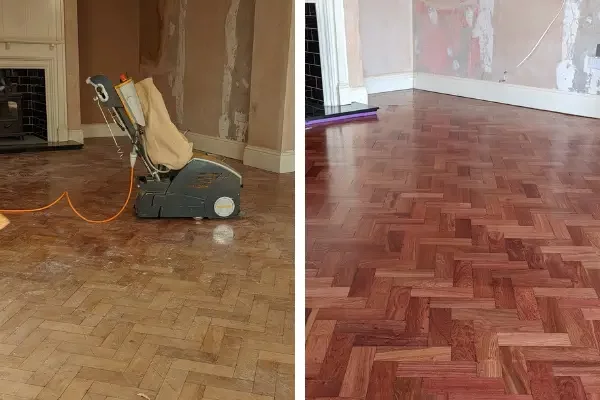 Is it Possible to Refinish Parquet Floors?
This is a really common question.  Often a homeowner will discover a parquet after lifting carpet from a room, hallway or dining area.  They might find it has never been refinished and has a build-up of old coatings or is worn, damaged and looks like it needs to be replaced.  As you can see from photographs on this page almost every parquet floor can be restored through sanding and refinishing.  
DIY sanding of plank floors can cause many problems and the results rarely mirror what a professional company can produce.  Parquet floor sanding requires additional skills to produce the results that the floor and you deserve.  As you have to cut against the grain on parquet floors you need to remove these cross-grain abrasive scratches before you apply the finish to the wood floor.  Not removing these cross-grain scratches would be a major mistake.  The best way to do this is with a planetary-style sanding machine or multi-disc attachment on a rotary machine.  Dust extraction is vital to reduce or eliminate swirl marks on the parquet floor.  
As previously mentioned you will have a range of finishing options, depending on the wood species.  These finishing options range from colour staining, hardwax and 2K oils to water-based lacquer systems.  You can read our introduction to floor finishes right here on our website blog.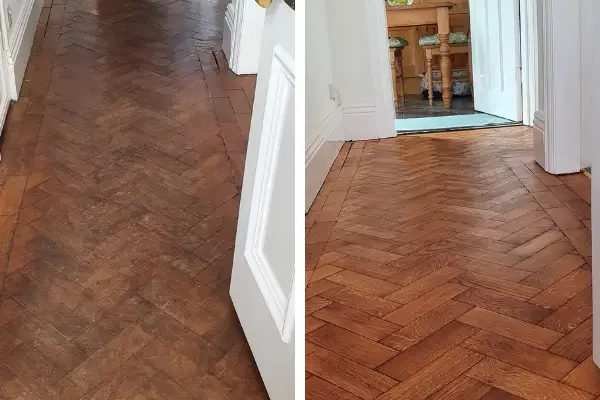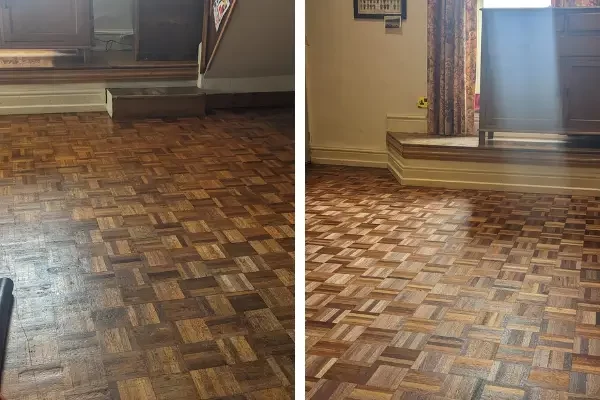 What Kind of Parquet Do You Have?
Parquet was installed in many different types of woods from tree species found in Europe to species that we call exotic. The exotic woods would have been sourced from areas of the world such as Africa, South America and Asia. Here is a list of more than 20 types of parquet flooring you can find in the United Kingdom.
Beech

Agba

Maple

Columbian Pine

Burmese Teak

European Oak

Pitch Pine

Muhuhu

Opepe

Apitong

African Walnut

Afzelia Africana

Danta

Copalwood

Iroko

Sapele

Patridge Wood

Makore

Rhodesian Mahogany

Merbau

Rhodesian Teak

Ekki

Jarrah

Panga Panga
Usually, the exotic woods will be redwoods so when the floor is refinished the colour will often be deep and rich. Common woods found in Europe such as oak and pine can always be stained a colour before coating with either hardwax oil, 2K oil or a water-based lacquer system.
How Much Does It Cost to Refinish Parquet
This is another great question and if you Google the question you are likely to find a wide range of answers.  The top result today on Google is from Checkatrade.  They list the price as around £25 per sqm.  Please remember that this cost doesn't include the labour cost which is on their web page.  They list that cost at around £30 per hour.  You won't actually find many, if any floor sanding companies quoting with a per-hour cost.  In fact, you won't get a split price either.  You are receiving a parquet restoration service and your price will be one price.  If you look at Checkatrade and go with the labour price while considering that a parquet job (30 sqm) could take 10 hours for example to complete, and this includes the setup time, time waiting for finishes to dry between coats or wood to dry after water popping.  So that job based on Checkatrade would cost £300 in labour followed by £750 for the sanding and refinishing totaling £1050.  Break that down into a sqm cost and it's £35 sqm.  That is also without staining the wood which would add an additional £300.  In all honesty, the Checkatrade pricing guide isn't that far out and in fact is quite accurate for many floor sanding projects.  If your project is small, say 10 sqm then most companies will charge a minimum amount.  Your project might only take them half a day to complete but their business costs remain fixed for that day. 
You might be reading this asking why there is a labour charge plus a sanding and refinishing charge on Checkatrade.  Well, the labour is to pay a wage to the employee or the owner/operator of the floor sanding business you choose for your project.  The sanding and refinishing cost is the rest of the business cost.  This covers everything from the business running costs to materials which include abrasives, finishing products and sundries to fuel, insurance, equipment and maybe even some profit.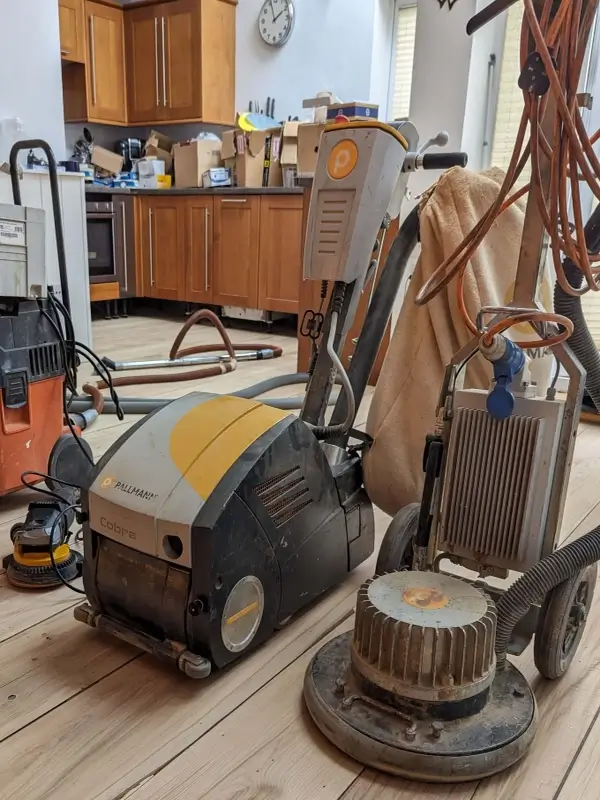 Refinishing Your Parquet Floor
In conclusion yes it is absolutely possible to refinish your parquet flooring. Parquet flooring adds warmth, character and value to your home.
Using the correct machines, products and skill is vital to ensuring a quality product is achieved in the end. Get in touch with me at 07568 700355 or send me an email at