How much does wooden floor sanding cost? This is a really important question and one that has brought you to this blog post. When you are thinking of how much any home improvement costs then a quick google search is a natural first step. I mean, you want to find out if it is worth you taking the time to explore that home improvement idea further. Time is important, especially the time you have outside of work.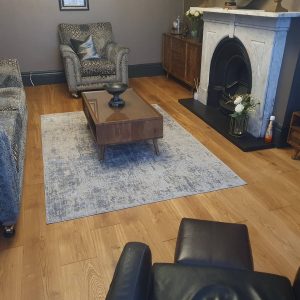 A Google search for how much wooden floor sanding costs?
The top result is from myjobquote.co.uk. I've read the information quite a few times and I cannot work out how they came up with these prices. This website states that it will cost between £4 and £25 per sqm. No mention of the condition of the floor, age etc as those are very important variables. Let me show you a simple breakdown for an average 20 sqm reception room floor that has pine floorboards that you have uncovered. For this example, a good quality 2 part lacquer has been picked plus a primer. The work will be carried out by one contractor. Remember according to this top Google result the average cost should work out at £14.50 a sqm. Let us look at the on site costs.
£110 left over for the business which has to pay the wage for either the employee or the self employed contractor.  The time taken could be 2 visits splits over 2 days.  It could be 3 visits depending on how much sanding is required and the finish chosen.  If using a 2K lacquer you really want the primer and 1st coat down then the final coat the next day.  Now those were just on the site costs and there are more, PPE for example.  Then there are other costs
If we take that £110 and apply it to the above costs it begins to look like someone has just done the floor sanding and refinishing for free or even cost the contractor money. I'm not sure you or the business would get any value out of this deal. Back to that website with the pricing. For timescales they state, "The time frames for each job will vary with a sanding and refinishing job usually taking about 2 to 3 hours". This fits with only two grits being used and very poor edging sanding being carried out.
What do you get from cheap floor sanding?
My experience is you will find the odd company out there that will sand your floor for £15 sqm. Please don't think you are going to receive a floor finished the same as someone charging far more, for example £40 sqm. There are different levels to wooden floor sanding. The floor will still look quite rough and will be coated in a cheap finish that won't look great for very long. If the finish is applied to a floor that is still rough then the thickness of lacquer across the floor won't even. This will lead to the lacquer wearing quickly in the traffic areas.
Cheap companies will do a couple of grits then throw down some finish. Great, the floor looks alright and you can't complain at the price. The guy came in at 9am and was gone by 3pm. However, if you go to a house where a professional has spent a couple of days on the floor you get a result that is simply stunning. The sort of result that you definitely were not expecting. You then have a floor that you want to shout about to everyone.
How much should it cost to sand and refinish wooden floors?
The amount you pay shouldn't be set to a sqm price. That is too simple in my opinion except in the case of commercial flooring projects. If you have a 200 sqm hall then a sqm cost is a standard industry way to work out the pricing. However, for floor restoration work in your home, the pricing should be worked out differently due to the far lower sqm area of flooring. There different options in terms of the products being used, 1K lacquers, 2K lacquers, hardwax-oils, 2K oils, stains, reactive stains, lye. The list goes on. If a contractor viewed the job in the example and stated a sqm price then you aren't likely to get any options or details as to what products will be used on your wooden floor. Here at Squirrel Property, I believe in education and keeping you fully informed as what is being used on your flooring.
I find it more useful to price up based on your individual floor and the finish that matches your needs. Some houses are busy with traffic and some with much less traffic. Some rooms will have more traffic with a modern kitchen high traffic but a bedroom lower traffic. This type of information forms part of the decision on what finish to use on the flooring.
Prep work is also different for various finishes. A 2K oil will ideally need the wood water popped. This involves adding a controlled amount of water to the floor to open the grain up. This allows the maximum amount of oil to penetrate the wood. This creates a better barrier against spillages. This process including drying can take say 90mins to 2 hours depending on drying conditions. For dark stains the sanding work needs to be exceptional as marks made by the abrasives will be highlighted. This takes time and patience to make sure that doesn't happen.
Example of a wooden floor sanding project
I'll use a project I finished last year.  It was about 24 sqm of Victorian pine that the customer uncovered.  They wanted it sanded and finished in a 2K lacquer.  Loba Fusion 2K was picked (including a primer) as I have used it before.  This product is suitable for commercial locations and indeed is used in some Next stores in the UK.  The job took 3 visits in total to complete with the customer charged £836.60.  Below you will find the before and after photo from the project.  
They received an excellent service with a brilliant floor being produced.  If you break it down to a sqm price it is about £35 sqm.  From experience in the industry that isn't a high price.  Go and look at flooring online and see if you can get solid wooden flooring with a premium lacquer finish supplied and installed for that price?  Restoration also generates about 78% less carbon than replacing with new flooring.  You get a stunning floor, save money on replacing with equal quality flooring and help to reduce your carbon footprint.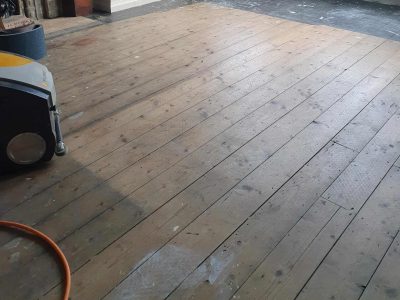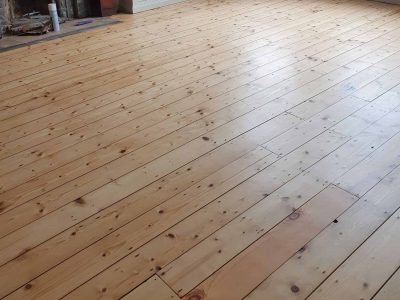 Are things clearer now about the cost of wooden floor sanding?
My hope is that you now understand more about the costs involved in having wooden floor sanding carried out on your floor. 
My goal in this blog wasn't to tell you how much your floor should cost to sand.  I'm hoping now that you understand that it's not a question that can be answered with a Google search or a sqm price.  I wanted to show what is involved for your contractor or business that you contact for a price.  Equally I wanted to explain what is usually delivered for cheap prices.  Expectations on price can get in the way of a good relationship starting between you and a sanding business. 
 In reality this business is more about restoration or renovation that just sanding.  Anyone can sand wood, but all sanding is not equal.  The same goes for the finishing products used.  What you get down your average decorating centre is not what the professional has access to.  
The professional floor sanding company has knowledge and experience which plays a key part in you getting a floor that will last for many years to come.  When exploring the idea of floor sanding, don't think that you will receive a cheap poorer substitute than new flooring.  Your refinished wooden floor can be cared for exactly how a new floor is.  If anything, you can have greater choice over the finished look when having your floor refinished.  Many of the finishing products used are higher quality than you will find on some new floors.