Wooden Floor Sanding, Like A Pro?
Part 1
Why would you hire a professional wooden floor sanding company when you can hire a floor sander at a fraction of the cost.
That is a really good question and there are numerous articles around how to sand a floor like a pro. I am going to be bold and say those articles and videos are misleading, you cannot learn to sand floors like a pro this way. Just Google "how to sand and refinish hardwood floor yourself" and plenty of results are produced. I've watched the videos and read the blogs and if a professional produced those results then please ask him if he needs a second go. Now back to why would you hire a company to carry out the work for this home improvement?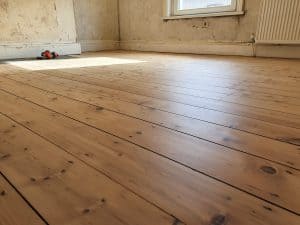 Wooden Floor Sanding Equipment
This is a great to place to start as the difference between a professional set up and a hire sander is remarkable. Usually, you will be able to rent an HT8 sander which is a drum sander, just like in the photo below. Feedback from clients is that the machine is very hard to control and so drum marks or indentations made in the flooring happen quite easily. The drum on this machine spins at around 3,300 RPM and weighs around 50kg which means no wonder it is tough to control. Dust collection is minimal, to say the least, and clients have reported having to spray the air with water to get the dust to settle. You are provided with a paper bag to put on the end of a metal pipe that inserts into the machine. I fail to see how this meets any of the standards set out by The Health and Safety Executive on dust control.
Next is the edging sander which isn't the worst bit of equipment. A disc is attached to the bottom and you then work around the room. However, clients report a high amount of swirl marks and I have come across these on floor inspections. The edging sander is fairly powerful and without training or experience, it can be very easy to leave plenty of swirl marks on your wooden floors. There is a key bit of equipment that is not provided with most rental packages and this will be covered later on.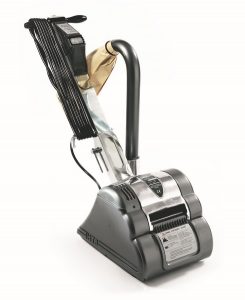 Read on to learn about the professional equipment we use for sanding wood floors.
Sanding wood flooring is hard work even with professional equipment. My main tool is the Pallmann Cobra 09 belt sander which you can see in the photo below. This is the top machine available from Pallmann and I choose to invest in it to assist in providing a quality service with minimal disruption to you. The drum on our machine spins at a slower speed than the rental machine but it is around double the weight. You can also control the amount of pressure that is applied as you go through the floor sanding grit progression. High pressure for the low grits and lower pressure as you get up the grits. Lower pressure at the high grits also means those abrasives last longer. Dust control is extremely efficient with around 98% of dust being collected. Now that is some excellent German efficiency. No small paper bag either, a proper fabric dust collection bag.
Our edging sanding machine is a brilliant tool that is backed up by the Festool Rotex to ensure where possible that all abrasive marks are removed. The edging sanders are hooked up to an M-Class extraction system which meets the standards set out by The Health and Safety Executive. We want your house to be clean and safe when the project has been completed.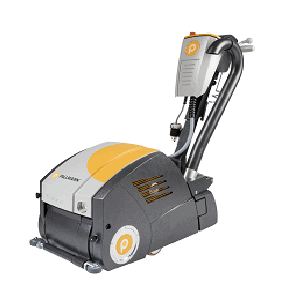 Final Piece of Equipment
I remembered there was a vital bit of equipment missing from the rental set up. This is called the floor buffer (see the photo below) or rotary machine which you will struggle to read about in guides on how to sand and refinish hardwood floors yourself. The purpose of this machine is to even out the floor. The edging sanding is done with a machine that spins so it creates a different scratch pattern from the drum or belt sander as you do the floor sanding grit progression.
After the finish is applied there is the risk of creating a picture frame effect around the room. This may ease off in time but using the rotary machine ensures that both areas are blended together. If restoring parquet flooring then this machine is even more vital. The belt or drum sander will create scratches that are visible, even at high grits, as you will be sanding the wood against the grain. Using the 17-inch rotary with the appropriate abrasives means the scratch marks can all but be removed which creates a smooth and pleasant finish. The detail in the wood flooring is also brought out using these machines if you pick the correct pads. That choice comes down to experience which you cannot learn online and why floor refinishing is called a craft.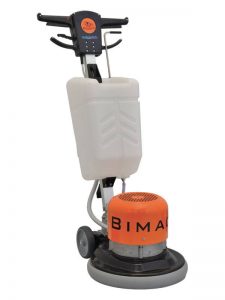 This should have given you a good understanding of some of the equipment used
This should have given you a good understanding of some of the equipment used in a DIY situation and a professional situation. There is a vast difference between the setups and this does affect the quality of sanding and importantly the final finish that is achieved.
Next week part 2 of this series will be published. This will deal with the available finishes from a retail perspective and a professional perspective. Part 3 will then deal with some of the DIY finishes I have come across and some professional finishes.
Read Part 2 to find out about the finishes available to you on the DIY market.